From curly to straight, just a comb away!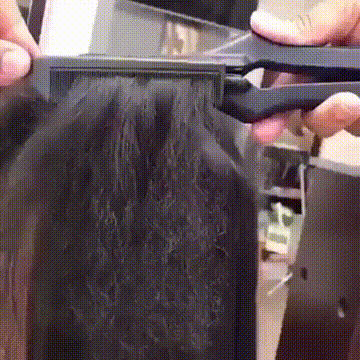 Features:
New technology: Vent hole design and heat recovery reaches temperature target faster than ordinary planchas de cabello.

Long lasting result: Within 10-15 minutes you get straight hair that lasts for many days until you wash it.
Fast heat up: PTC heating element, 15 seconds quick heat up, this steam hair straightener will have your hair smooth, silky and soft within minutes.
Easy to use - Scissor handle tail design, easy and labour saving to clasp hair. Seamless connection, face plate lamination process fits tightly to ensure each strand of hair is cut.
【30 MIN AUTO-OFF】This built-in setting means that it switches itself off after 30 minutes of idle time to protect you and your surroundings.
Safe to use: High-quality ceramic plates ensure even heating and smooth gliding. Your hair is protected from damage caused by the heat.
Dry and wet dual use steam for hair care. widen panel, four-speed temperature setting is suitable for different hair.
Key features:
The tourmaline ceramic coating protects the hair from heat.
Makes hair silky and shiny, reduces frizz and static and instantly gives silky shiny hair.
Lightning fast heating - 30s heat.
4 easily adjustable temperature settings: 300° F, 350° F, 375° F and 450° F. Suitable for all hair types!
Recommended temperatures:
Thick hair: 410-460°F
Normal textured hair: 354-410°F
Delicate, fine hair: 338-392°F
Oil treatments: less than 338℉
Package included: