Easy and fast to operate and drill holes


Here's a great tool that does all the hard work for you.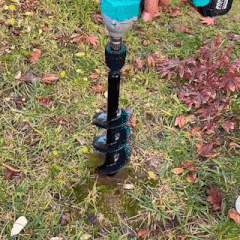 The Spiral Hole Drill Planting & Grass Plug Auger is a handy garden tool for planting bulbs, bedding plants and seedlings. Designed to help you plant your grass plugs and small annuals much faster than with a shovel or trowel, this auger pulverizes the soil, giving your plants better contact with the soil.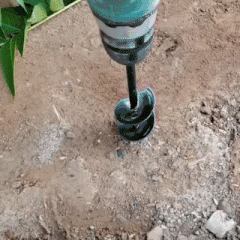 PLANT MORE IN LESS TIME:
The soil auger makes all the guesswork in planting bulbs so much easier. Just drill as far as the auger will go and remove the auger from the hole - it's that simple!
Practical Tool: This handy garden tool digs holes with ease and makes garden maintenance quick and easy. Perfect bulb planting auger for tulips, irises, bulbs, bedding plants and seedlings.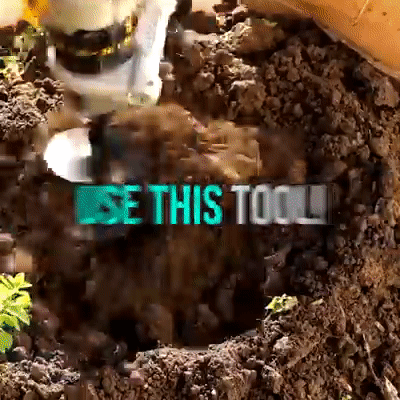 Energy-saving: Use any electric or cordless drill in which a 10 mm (3/8") bit fits. Not only does it dig deep holes, it instantly pulverizes the soil so you can plant more in less time.

MUSIC DRAWING: Effortlessly dig post holes in the garden or even take it on vacation to drill a hole in the sand to anchor your beach umbrella.
MACHINED POINTED TIP MAKES IT STABLE: The pointed tip hits the ground first and keeps it stable when digging on hard ground. It also minimizes the distance between the digging blade and the tip, so the auger starts working on hard ground without pushing down.

SPECIFICATIONS:
Material: High strength carbon alloy.

Color: Black.

Weight: 260g,135g,1080g

Package includes: 1 x garden auger spiral drill

Size: 22cm, 45cm

✔ INSURED SHIPPING:
Each order is processed within 24 hours and shipped insured with a track & trace code, this allows you to track your package anywhere.

✔ 100% SATISFACTION GUARANTEE:
We offer 30 days return time to our customers, this is double what is required by law! Our products are extensively tested, we are therefore sure of the quality.

✔ CUSTOMER SERVICE:
Our customer service team is here to answer all your questions. We strive to answer all emails within 24 hours!